Timex Expedition Scout Review
Joseph Posted on March 01 2021
Photo by Sean Paul Kinnear on Unsplash
For any watch aficionado, when you think of a quality watch you think of something produced and designed in Switzerland or Japan. However, there is a brand that has maintained its reputation of producing quality and affordable watches for over 165 years and it is a US company.
Timex was founded in 1854 in Waterbury Connecticut with the simple goal of applying American ingenuity to European clock making. As Timex states on their website, they were able to achieve mass production at an affordable price for clocks. It seems that the goal from the beginning was to create affordable quality time keeping that will last the test of time. 
In the early 1900's Timex created a pocket watch that would cost the public $1 or the equivalent of 3 bags of candy. As the time keeping industry changed Timex also changed and continued to adapt its offering. After the pocket watch, the next evolution that we all know was the creation of the wrist watch. Timex, continued with their goal of mass producing watches that the whole public could wear. By the 1950's 1 of every 3 watches sold was a Timex. At this point in time, Timex not only wanted to prove that they were the most affordable watch on the market, but they also wanted to prove that they were making a durable and resilient watch. They had a marketing campaign in the late 1950's where they would try destroying their watches on live TV. This is where their motto "Takes a licking, keeps on ticking" was created. 
Since their founding, Timex, has created quality timepieces that are perfect for anyone who wants a beautiful and reliable wristwatch. This intro brings us to one of Timex's most popular collections and the purpose of this blog, the Timex Expedition Series.
Timex Expedition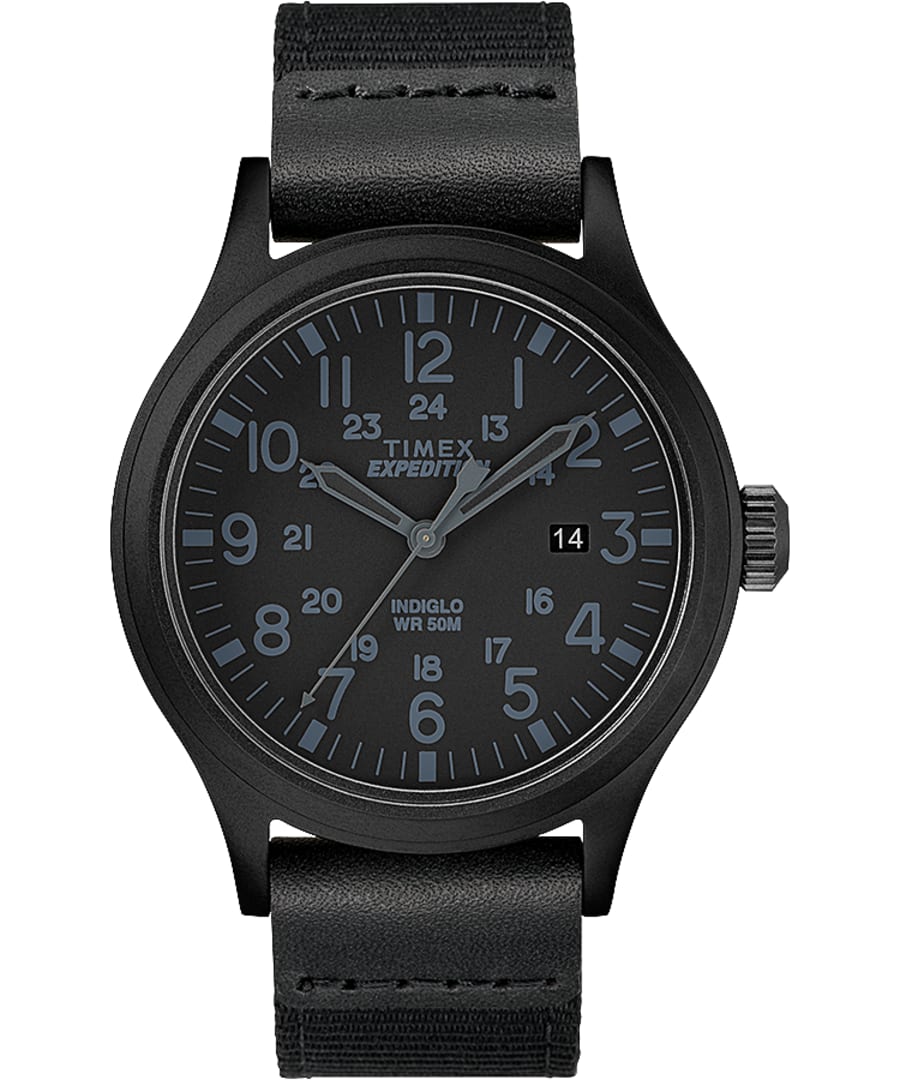 The Timex Expedition collection is a collection that is characterized by all the qualities mentioned in the introduction above. Currently, on Timex's site, you can find 5 of their most current Expedition models, all under $65. From a simple glance, the collection leans more casual, yet, we believe there is an elegance to its functionality. If you want some ideas on how to dress around your watch check out our earlier blog post here.   
There is no watch in the Timex Expedition collection that you could say is a luxury watch because they are truly meant for the rugged explorer. The watches either come with a mixed material strap of leather with fabric or just rugged leather and have a durable metal case that keeps up with the Timex model "takes a licking, keeps on ticking". The new collection of the Timex Expedition Scout has a date window, Indiglo light up dial, and are all water resistant. There are no complexities or additional functions. The watch serves its purpose to perfection, it reliably tells the time in any scenario.  
As of the moment that we write this article (March 1, 2021) you can find a Timex Expedition Scout on the Timex website or on Amazon for an even more affordable price. The watches on Amazon are priced closer to the $40 range rather than the $60 advertised on Timex's website. However, we have to warn you that the only way to guarantee authenticity and that the manufacturer warranty applies is to purchase the watch directly from Timex. 
We really love that Timex has a lifetime battery replacement warranty that no other manufacturer we have seen has. 
All in all we love the Timex Expedition series and think that it offers the perfect watches for those of us in the world who don't need additional features or elaborate designs. Those of us that need a watch that works day in and day out. We have to give this collection 5 stars out of 5 for their timeless design, quality craftsmanship, and affordability.